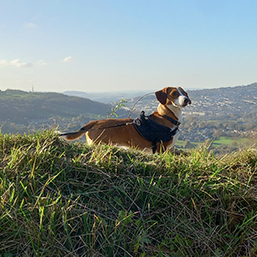 Tommy
Tommy the Office Dog is a rescue dog from Serbia. He is half Jack Russell, half Dachshund. He arrived in the UK in May 2019. He was then adopted by Jim and his family. We missed Tommy during the pandemic, and now he has gone to live in Bath with Jim. We look forward to his visits.
Tommy the Office Dog loves long countryside walks, sausages, cheese and sleeping on his dad, Jim. He's a big fan of barking, chewing, digging and burying things in the garden. He also likes a pub garden and can be seen at some of Atlas' open days.
When he is at the Atlas office you can find him curled up in a corner or making himself at home on an office chair.
Tommy understands some English commands when he chooses to –  alas Jim's Serbian is a bit rusty.
Bark лавеж
Tommy is pretty hopeless when it comes to his turn to make the tea, but he makes up for it being a good excuse to get up and move around when he needs to nip outside for while. We didn't know we needed an office dog, but we're always pleased to see him.
It's no surprise that one of Tommy's favourite clients is Bow Wow Meow – read more about our work with them here.