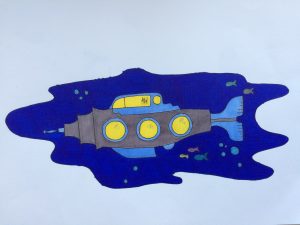 In this new blog series, we'll be taking a look at some famous novels which have been translated into and from the English language, beginning with Twenty Thousand Leagues Under the Sea. If you have any suggestions of novels you'd like us to discuss, or anything to add to the discussion, please leave a comment in the section at the bottom!
Written by Jules Verne in 1870, this French novel chronicles the adventures of Professor Aronnax, his faithful servant Conseil, and harpooner Ned Land. The three set out to investigate mysterious disappearances at sea and enter in to battle with what they first believe is a sea monster. This transpires to be Nautilus, an underwater, electrically powered sea vessel, not too far removed from a submarine, which for its day, was ahead of its time thus securing Verne's title as "The Father of Science Fiction". The professor and his friends are held captive on Nautilus by the vessel's commander, enigmatic Captain Nemo.
Throughout the novel, Verne plays with mixing reality and fantasy, blurring the lines between the two. For example, the story contains a character Captain Maury, who is said to be named after real-life oceanographer Matthew Maury. Indeed, Nautilus itself was named after one of the earliest submarines, built in 1800.  The characters within the novel visit actual places as well as fictional, from the Red Sea to Antarctica, and also the mythical Atlantis.
Twenty Thousand Leagues Under the Sea was first translated into English in 1873 by Reverend Lewis Page Mercier, and contained many errors ('diving apparatus' became 'cork-jacket'). It was widely criticised as being inaccurate, particularly with regards to the extensive scientific research done by Verne in the French original. Dialogue had been edited down in to mere summaries and much of Verne's humour was lost in translation. Not to mention that anything that may be interpreted as offensive to the British was either edited for political reasons or completely removed. Despite the errors, this first version remained the official translation of the novel for nearly 100 years.
Twenty Thousand Leagues Under the Sea was made into a film by Disney in 1954 starring Kirk Douglas and James Mason.  It won 2 Academy Awards in the same year for Best Production Design and Best Visual Effects – of which the giant squid is most famous.  A remake is in production as I write this!
The English language version of the novel underwent new translations in the 1960's and 1990's, and in 2010 a fully revised version was completed by Walter James Miller.
In the original French text, the book is actually titled "Twenty Thousand Leagues Under the Seas". If you are wondering, 20,000 leagues = 80, 000 km. That's 49,709.7 miles.
"Forty-Nine Thousand Seven Hundred and Nine(ish) Miles Under the Sea" not as catchy.
Save
Save