On Friday 27 September 2013, I was delighted to attend the annual conference for the ATC – the Association of Translation Companies.
Founded in 1976, the ATC is, perhaps, one of oldest professional groups representing the interests of translation companies in the world. It is dedicated not only to representing the interests of translation companies, but also to serving the needs of translation purchasers.
Members of the ATC are carefully vetted before admission into membership, adhere to a strict code of professional conduct, are subject to the rulings of a professional ethics committee and carry full professional indemnity insurance cover to safeguard the interests of the translation purchaser.
And we have been a member since 1993! This year, the ATC chose a new venue in a break from tradition for the 2013 ATC Conference – it took place at Stamford Bridge, one of the world's most famous football stadiums, and the home of Chelsea FC. [Alas the football connections were somewhat lost on me, but it was an impressive venue nonetheless]!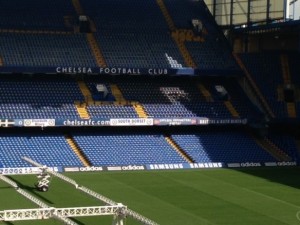 Everyone who was at ATC2013 will have a photo like this one!
There was a packed programme of plenary speakers, breakout sessions, master classes, workshops and even speed networking  – so we were spoilt for choice, such that it was hard to decide what to commit to.
Highlights for me … there were many and the selected speakers did not disappoint. I was inspired and engaged by Jack Waley-Cohen and Chris Harding in particular. Paul Mason of Cicero gave a comprehensive talk on Expansion through Acquisition without slides and seemingly without notes! I made a note to contact Noel Goddard of FTT Global to discuss our overseas payments.
Just as we were all flagging after 5pm, along came Anu Carnegie- Brown and Christina Schaeffner to brighten us all up again with their innovative presentation about the importance of work placements to both LSPs and universities. As Atlas has offered 100s of work placements over the last 20 years, it's great to see such initiatives.  Finally the day ended, attendees still buzzing and chatting, heading off in many different directions, under quite an impressive sky. Thanks to the organisers for a very busy day!