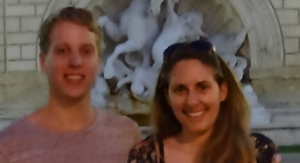 Meet John and Cait. They have embarked on a travelling adventure, starting in England and ending up (hopefully) in China. Over the course of their journey they will come into contact with people speaking different languages, so to assist them during their travels, Atlas Translations has provided them with a 24/7 telephone interpreting account.  We will be following their progress across Europe and Asia by posting a weekly blog of updates.
LUXEMBOURG CITY
We arrived in Luxembourg to another beautiful day of 34°C heat! In the valley of the city is a large, winding, verdant park where we relaxed with a picnic. We walked up the steps until we were level with the tree tops, and into the old town. We wandered across a bridge to some castle ruins where there was a stunning view of the city and valley below.
This city was serene and definitely relaxed us before our first overnight train experience to Munich! All the way from the station and through the city are these amazingly colourful statues of elephants, about the right size to ride on…
MUNICH
We managed to find a local guide to take us around the city, but unfortunately his English wasn't very good (better than our German admittedly)! We called the telephone interpreting number, and had an interpreter on loudspeaker throughout the tour. The guide was very happy to be able to give us far more information than usual while speaking in his native tongue! He told us that when the 16 states of Germany combined under one constitution, Bavaria refused to sign up, which means technically they are still independent as a country. We were also informed that many things stereotypically defined as 'German' are actually 'Bavarian'; lederhosen, bratwurst and Oktoberfest.
Later on we walked into the old city and visited one of the Munich galleries to see a fantastic display of Rubens' sketches and paintings (including the biggest painting in the world… so says John!)

The food and beer in Munich was incredible – LOTS of pork and massive bierhalles. The Paulaner dunkel weissbier we had after a day of walking was possibly the best beer we have ever tasted and that is saying something, especially having just come from Belgium!
LUCERNE
We headed straight up into the mountains taking a cable car onto Mount Pilatus which offers an impressive view from the second peak. Once we'd made the most of the views, John took advantage of the breezy relief from the sticky heat offered by a steep winding luge and went darting off down the side of the mountain at great speeds;  41kph at one dip!

The next day we took a stroll around the very pretty city centre, walked along its walls and up its towers affording us more beautiful panoramas. Dramatic night storms have followed us from Munich but on this second night in Lucerne it was still and warm and we welcomed some fellow travellers to play cards with us. We also sampled some Swiss fondue – for John delicious, for Cait not at all, but no third party to cast the decider…
Please subscribe to receive further updates on John and Cait's travels. Would you find a 24/7 telephone interpreting account useful? Get in touch today to set up your account!