Tuesday 27th November 2012 was another Atlas Open Day 2012 – when we invite both new and experienced linguists to join us for the day with the purpose of getting to know one another and exchange information. A diverse group attended, from all around the world, each with different specialisms and skill sets.
We kicked off the day with Rayner Essex's Antony Federer and his 'Top 5 tax tips for the self- employed'. This proved to be very informative and useful to all in attendance, giving some very good tips!  We followed on with a Question and Answer session with the Atlas team. Hopefully we shed some light on working with us, and how things work on our side.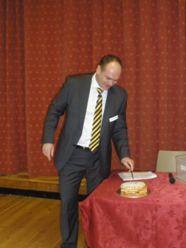 Marie Lucchetta gave an interesting presentation on different CAT Tools, particularly focused on Trados and MemoQ.  She will continue to find her one to one CAT tool training sessions in demand! Kate Rudd gave some great advice on 'How to increase productivity', highlighting methods for maintaining your self-motivation and concentration. And finally, Dee Clayton taught the group how to 'Tame Your Public Speaking Monkeys!' in an interactive and lively session.
We hope all of the attendees found the presentations as useful and inspirational as we did. Most importantly though, crammed in this busy itinerary, were lots and lots of sandwiches and cakes!
The day was a huge success for both the Atlas team members who enjoyed meeting so many linguists, and the suppliers themselves who benefitted from informative talks, tasty nibbles, and mingled with the Atlas team and other freelance linguists.
Thank you to everyone who attended!
If you would like to attend our next Open Day, please contact Carol@atlas-translations.co.uk