Stefania, our Italian work placement worked hard at our Open Day last week. Here's what she had to say about it:
On 4th July we had an open day at Atlas. Many translators and interpreters working in different languages came to meet our team and introduce themselves. It was really nice to meet them and have a chat with them and discover how they actually work, and their backgrounds.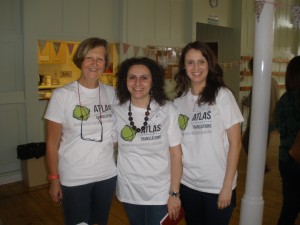 (l-r  Carol, Stefania & Gabriela at the open day)
I think that is much better to have a chance to know the people who you are in touch with every day. We also had the pleasure of listening to different people and learning more about ITI and the benefits of joining the association, presented by a member experienced in translation, formerly the owner and director of a translation company. We had a little taste of how to deal with website marketing strategies, and the art of translating the spoken language which is really important to help clients' sales.
The more we know about our suppliers, the more we can improve the way we work together. Thank you everybody.