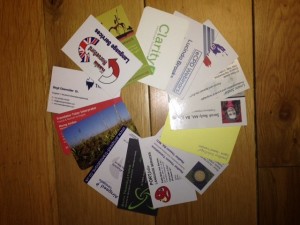 We love to get out and meet people – which means we do amass a fine collection of business cards – just a few recent ones are shown above!
It's interesting to see business cards as I do think they can show some imagination and creativity, (as well as highlighting your name and what you do). They can also spark a conversation.
So what should you put on your business card? For what it's worth, here are my thoughts:
It's got 2 sides, a business card, so think about using both!
Anything that makes it different is usually a good thing as it can be a talking point or a reminder. This could be an unusual texture, a different colour, rounded edges, a different (smaller!) size.
A photo helps, if like me you sometimes meet dozens of people in a very short time. I remember faces but am hopeless with names.
An eye-catching logo is nice, but not essential.
Do include what you do, and as a translator/interpreter, the languages you offer, and any specialisms.
If you're into social media and/or blogging, give it a mention.
I think it's definitely worth spending some time and effort on your business card. We have had many versions of the Atlas Translations business card, and this is my current one.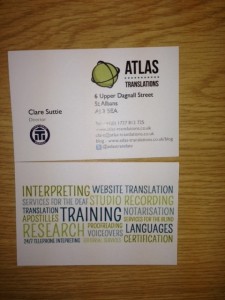 What do you think of it? And what are your tips for business cards?
CS