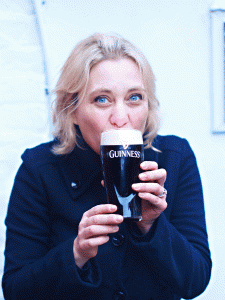 Over the weekend people around the world celebrated St Patrick's Day!
I must admit I didn't know much about St Patrick before writing this blog. The only thing I thought I knew, was that he was an Irish saint and that the 17th March was when his life was celebrated in Ireland and other countries in the world.
But upon doing some research I discovered I was wrong and St Patrick was actually born in England, from Roman parents, before being kidnapped by Irish pirates and brought to Ireland as a slave.
While in Ireland Patrick found God and devoted the rest of his life trying to convert the Irish population to Christianity, and to spread the word of God. To explain the concept of the Holy Trinity, he used the three leaves of the shamrock. I finally know why I have never ever found a shamrock with three leaves – it is down to St Patrick frantically picking them back in the day!
The Trinity happens to be the name of an Irish pub I used to go in Rome when I was younger. It certainly wasn't very "holy" and you couldn't see a shamrock anywhere. Maybe I just couldn't really see well enough, for some other reason…
Believe me, if green was my colour (and I wasn't at work ) I would be partying somewhere with the best of them! Unfortunately no shade of green is good for my skin complexion. Though I have discovered the Irish red looks good, so I have options for next year to wear a big wig or a beard – I'll see what suits me best. Failing this, I could start campaigning for the new colour for the St Patrick's celebration to be blue. Apparently this was St Patrick's favourite colour, and after discovering he has some Roman blood I am sure I should have a say on the matter!
Éirinn go Brách
Save