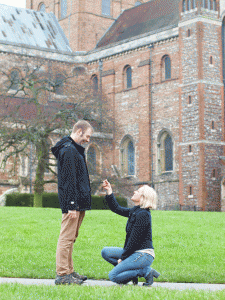 When they told me that a leap year wedding could end disastrously, I didn't really believe it, and didn't think twice before deciding to get married in February, on a leap year.
On our wedding day it rained – but you would expect that in the winter, even in Rome! The ceremony went well and there was a big party. The next day it was time to fly off for our honeymoon to the Maldives. I decided to dress up for the hot weather I was going to enjoy and not for the freezing, rainy weather I was leaving behind, so I left the hotel in flip flops, a summer dress and a big sun hat. I said goodbye to the remaining wedding guests with a big smile on my face. When we got to the airport after half an hour of queuing, my excitement was rather uncontrollable. Unfortunately this excitement soon turned into uncontrollable anger against my now ex-husband, when the check-in officer told us that we were unable to fly because his passport was expiring in 3 months, and needed at least 6 months remaining to fly East. At that moment I thought my ex's life was going to expire before his passport!
I am not sure this is convincing enough on how gloomy and disastrous a leap year wedding can be, so I must add that because of this delay when we arrived in Male, there were no connections to our hotel and we had to spend our first night, instead of the lovely resort in the middle of the Indian ocean, in a 1 star hotel over a mechanic's workshop which was open all night. Our window was open as we no air-con in the room. Still, eventually we arrived in our idyllic, small paradise, still tired due to the mechanic making noise all night, and jetlagged! But the crystal blue sea, the sun and the palm trees filled me with joy.
While walking on the white sandy beach, excited to see our accommodation, I passed the other bungalows that all seemed to happily share one parasol with their next door guests with two sun loungers each side. We finally reached our bungalow and I see only two sunbeds under our parasol with a couple lying on them. Then I see two other sunbeds thrown under a bush on the side. They couldn't be our sunbeds could they? I kept my Italian cool and asked them if they could move slightly so I could place mine next to theirs but this couple replied that there wasn't enough space. I suddenly lost my Italian cool! Too tired to argue I decided to go inside unpack and have an early night setting my alarm clock for 6 am the next day to shove their sunbeds under the bush so I could have ours where they belonged!
I went to bed and slept soundly until I heard my ex saying something about our new neighbours. In state of jet lagged confusion I got up thinking I have missed my alarm clock, and start my "it is really hot outside routine". There I am applying factor 50 sun cream to make me look as white as a ghost. I then put my swimming costume on, a big sun hat and sunglasses. I picked up my towel and opened the door. I was a bit puzzled to see that it was pitch black outside, but assumed (as I had never been that far East) that the sun must rise much later, around 8/9am.
I stuck to my plan got my lovely new neighbours' loungers and placed them under the bush, and positioned mine properly and laid down beneath the stars waiting for the sun to rise.
Then my ex comes out asking what in God's name I was doing. I replied "sunbathing, the sun should be out soon". He said "It is 12 o'clock at night, I only said the neighbours were coming back from the bar"…
Why didn't he think to mention this when he saw me getting ready for a day in the sun when actually I had just gone to bed?? I decided to spend the night under the stars to avoid any blood shed!
Some people would say it was the mother of all blonde moments. I say leap years mess with your head, and your life together with mechanics working through the night, parasol thieves and useless husbands! Needless to say that marriage was short and bitter, but I am now engaged again – this time I won't arrange the wedding in a leap year!
Save