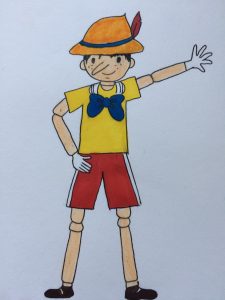 The Adventures of Pinocchio is an Italian children's novel by Florentine Carlo Collodi, set in a villa in Tuscany where Collodi spent his childhood. It is now known as Villa Pinocchio (which was up for sale for a mere $25million in 2014!). Collodi was somewhat of a linguist himself, and actually came up with the idea for Pinocchio after translating several fairy tales from French into Italian. Pinocchio was published as a novel in 1883, and features the mischievous adventures of a wooden puppet named Pinocchio. The story begins with a neighbour giving a talking piece of wood to a poor woodcarver called Gepetto. He fashions a puppet from this wood and Pinocchio is 'born'. The name Pinocchio is chosen by Gepetto, as he once knew a family with that name who had good fortune, and he hoped the name would bring the same luck to his puppet.
Pinocchio's most memorable feature is undoubtedly his nose and the one thing everyone remembers about him is that it grows longer when Pinocchio tells a lie. However, in spite of his nose's notoriety, this only actually happens a couple of times in the book. Even so, that was often enough to give rise to The Pinocchio Paradox, which states that if Pinocchio were to say: "My nose will now grow", his statement would be neither true nor false. (Don't think about that one for too long – I've wasted an hour on it already).
Before being released as a novel The Adventures of Pinocchio was published as a series, appearing in Il Giornale per i Bambini. In the original series, Pinocchio dies a horrible and gruesome death, being stabbed and then hanged for his misdemeanors by his enemies. However, in the novel he is rescued by The Blue Fairy, who helps a reformed Pinocchio become a real boy with an honest character. The editor felt this was a more palatable ending, given the fact it was indeed a children's book.
Unfortunately Carlo Collodi died in 1890, unaware of the enduring impact his story would have on the world. Pinocchio has been translated into more than 260 languages, making it the most popular children's story in the world.  The Adventures of Pinocchio was then made into a Walt Disney animated film. Originally, a box office disaster in 1940, it reached dizzy heights after it was re-issued in 1945 winning two Academy Awards. Not only is this story the most translated children's book ever, it is also now recognised as one of the greatest animated films ever made.  Indeed, 60 years after the film was released, Pinocchio is still a prevalent character in the Disney theme parks. It's safe to assume that not killing him off was a wise choice.
Save
Save