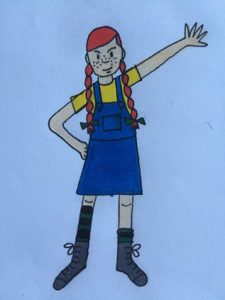 Pippi Longstocking (full name: Pippilotta Comestibles Windowshade Curlymint Ephraimsdaughter Longstocking) tells the story of a 9 yr old orphaned girl. Her mother is an angel and her father washed overboard and is now the king of a distant island. Despite her compromised start in life, Pippi proves to be independent and confident.
She has crazy red pigtails and a nose "the shape of a very small potato… completely covered in freckles", she has a style of her own and whether or not you have read the book, we can all summon, in our mind's eye what she looks like – unkempt but still feminine, stripey socks (or unmatching socks) and crazy pigtails. Her image has been copied in a variety of forms It's my personal view that Pippi's style heavily influenced The Spice Girls 'Baby', 'Ginger', 'Scary' and 'Sporty' – she's an amalgam of them all, I suspect she was a style icon to them in their formative years).
With no parents to tell her what to do she doesn't live by anyone's rules but her own, and she's perfectly fine with being a little different, for example instead of asking for anything on her birthday, she gives her friends presents. Pippi Longstocking has superhuman strength and refers to herself as "the strongest girl in the world" proving this by lifting her horse using just one arm. Her friends include a monkey named Mr. Nilsson and the horse, who lives on her porch.
Pippi always seems to find outrageous adventures to go on. This literary character challenged gender roles, introducing feminism into children's literature and served as role model for women across the globe. It has been suggested that this Swedish invention is one of the reasons Sweden has the most female MPs (after Rwanda). Described as an independent, freethinking optimist, it's easy to see her global appeal. Lindgren, without doubt is the most translated Swedish author of all time.
Pippi Longstocking
Pippi's name was chosen by the author's daughter who was off school with pneumonia and requested that her mother write her a story that made her feel better.
Written by the Swedish author Astrid Lindgren, first published in 1945 (after initial rejection a year earlier), it is no surprise this book series has been translated into 95 languages, from Afrikaans to Zulu. Even after Lindgren had found fame and wealth she continued to live in the same apartment in Stokholm where she created the character in telling her daughter these tall stories.
A Scandinavian, unconventional female protagonist, strong and independent and who isn't seeking a prince and happy-ever-after…. Sounds familiar.