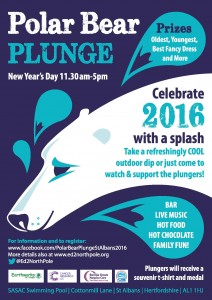 In April 2016 the husband of our Director Clare Suttie, Ed will be venturing to the North Pole to raise money for a host of great charities including Earthworks, Cancer Research UK, Rennie Grove Hospice and the Antarctic Heritage Trust.
In the lead up to Ed's expedition there will be a variety of different events and fundraisers going on. One of these is the Polar Bear Plunge. On New Year's Day participants will enjoy a refreshingly cool outdoor dip at the SASAC swimming pool in St Albans on Cottonmill Lane (postcode AL1 1HJ). Beginning at 11.30am the event will continue for most of the afternoon, so if you're in the area, please come down to participate or just to lend your support – there will be live music, hot food and most importantly a bar! Plungers will receive a special souvenir t-shirt and medal for their efforts. You can find out more and register yourself for the Polar Bear Plunge here. There will be prizes given out across a few different categories (including fancy dress) – what more do you need?!
We'll be following Ed's progress both with his fundraising exploits and the expedition itself in our blog but you can follow him on Twitter or Facebook too. To find out more about Ed's endeavour click here. And please do donate! At the point of writing almost £6,000 has been raised towards a target of £30,000 and all donations no matter how large or small are greatly appreciated. If you'd like to, please help spread the word of Ed's exploits! Feel free to share the Polar Bear Plunge poster – it's all for a worthy cause!
So what better way to kick those New Year's cobwebs and hangovers, and start 2016 with a splash than with an outdoor dip? Hope to see you on the 1st!