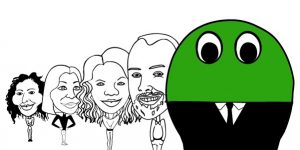 As a professional freelancer, it is important that your commitment and professionalism in delivering quality work shines through in both the work you produce, and in the way you present yourself. Here are a few tips for making sure you come across in a professional manner at all times.
Your Image
Although face-to-face interactions for freelance translators can be rare, interpreters meet face-to-face with clients all the time. Always be sure to dress smartly and appropriately for the occasion.
In all correspondence be friendly but remain professional. Although emails are seen as a more casual form of correspondence, it is still important to come across in the right way. Choose an appropriate font for your emails. No comic sans! You can address clients with a fairly informal 'Hi' or 'Hello', and decide on the formality of your writing according to your relationship with the client. But before you know this, err on the side of caution – a friendly but formal style of writing will present you in a professional light.
Whether you like it or not, you will almost certainly have an online profile to some degree. Make sure that if you have a website, any featured images are appropriate and professional.
If you want to keep your social media profiles away from the professional sphere, no problem. But if you do want to connect with your clients over social media, be sure the images and posts/messages you sending out aren't inappropriate!
Professional Integrity
You must protect your professional reputation. The best approach to doing this, is to maintain honesty with your clients and with yourself. Never accept jobs you are not qualified for, or accept too many jobs at the same time. Although it can be hard to turn down work if you are free to take it, especially as you want to be helpful in all situations. However it is more important to keep your word than accept a job you're not going to be able to deliver to the best of your ability or on time.
Being reliable will certainly go towards building a solid relationship with your client or agency. Your clients will feel that they can trust you, and you can offer them the quality and professionalism they're looking for.
Being Reliable
Always keep to your deadlines!
If you foresee any issues meeting a deadline while you're translating a document for a client, let them know ASAP. Whether this is due to an unexpected IT problem, a power cut or something to do with the document difficulty being underestimated, always make sure you inform the client as soon as you can, so that they can do what they need to do.
Displaying a high level of professionalism will increase their faith in you. This will lead to more working opportunities.
Have we missed anything? Let us know in the comments below.