A It's yours!
It's been an interesting week, as we've been working hard to ensure that our supplier database is up to date. It's recently been re-vamped and improved to make life better for us at Atlas Translations, as well as for all of our suppliers.
We contacted everyone who has ever applied to work with us to log in and make sure that the information they have given us is correct and up to date.
What has come across is that some of our suppliers really hate being asked to update their own information. And I mean really hate.
Like this person:
I am not at all willing to waste my time again uploading information…. Every bit of information you needed from me you already have it.
Or how about this one?
Why not just delete my name. I'm not good at figuring out how to log onto other people's databases. It's all too much bother.
And this one
You do know that I have not received one assignment from you at all. Tell me why I should bother. As for references, all you're going to get is the name and address of other translation agencies. If you want to waste their time you can have them.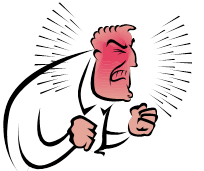 Gosh! We didn't intend to upset anyone! The whole point is that sometimes people fill in an application form with us and then we lose touch – we've been going for 22 years so this does happen. Maybe once a year we send a huge mail-out to remind people that they have supplied us with information which may have become outdated. This is their data and it is important to us that we look after it – which means we keep it secure, protected and up to date. And of course we delete it if they ask us to.
It's also a good exercise to reach out and connect with some people we may not have contacted before. Instead of seeing it as a hassle and a bother, many of our suppliers have taken the opportunity to respond in a positive way to say hello and indicate that they'd love to work with us. Yay!
I guess I have a few messages to get across. If you aren't prepared to update your information with a potential client, don't fill out an application form in the first place. If you are frustrated with a client and you decide to opt out of their system, be polite about it. And if you want to work with a particular client, see any contact from them as a chance to say hello and get your name known as someone polite and helpful to deal with – it's a great way to get a relationship going.