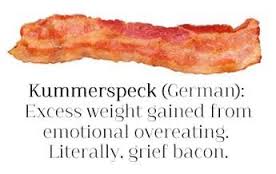 Ever felt your waistband tighten after raiding the fridge at the end of an overly stressful day at work? That'll be a case of 'grief bacon' (or kummerspeck), as the Germans call it.
A specific feeling, situation or action may be perfectly summed up by a single phrase like this in one language, yet may lack a direct equivalent in another.
This not only demonstrates the richness of language, but also how it is often necessary to 'borrow' from other tongues to find an expression which hits the nail on the head.
The exaggerated use of Anglicisms in other languages is often a point of contention, but what about those quirky foreign phrases that we could use in English?
Here are the Atlas team's top five:
1. Backpfeifengesicht (German) – a face that cries out for a fist
2. Esprit d'escalier (French) – when you think of that perfect verbal comeback…but far too late
3. Gigil (Tagalog) – that urge to pinch or squeeze something ridiculously cute
4. Cafune (Brazilian Portuguese) – the act of "tenderly running your fingers through your lover's hair"…those Romantic Brazilians
5. Bakku-shan (Japanese) – not so romantic. Meaning a beautiful girl… as long as she's being viewed from behind!
For the full list, click here (http://mentalfloss.com/article/50698/38-wonderful-foreign-words-we-could-use-english)
Atlas understands that each language is unique and that its intricacies should be respected, especially when it comes to translation. Our highly qualified translators and interpreters are well-versed in the importance of linguistic subtleties and are committed to conveying both accurate meaning and cultural nuance to ensure that your message isn't lost. For a free no-obligation quote for any of our language services, give Atlas a call on +44 (0)1727 812725 or email team@atlas-translations.co.uk.