Inspired by the recent Summer music festivals that have been taking place across Britain, the Atlas team has come up with our very own hit parade of songs, especially for translators.  So here we go!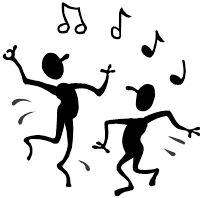 5. "Chan Chan" by Buena Vista Social Club – The opening track of Buena Vista Social Club's iconic 1997 self titled album has been described as the band's 'calling card', and has become as synonymous with the Cuban capital Havana as cigars and rum. One English translation of the second verse reads: "When Juanica and Chan Chan, sifted sand at the beach, The way she was shaking the "sieve", made Chan Chan feel sorry/shame"… Perhaps this one is best left un-translated.
4. "Denis" by Blondie – The American New Wave band Blondie first recorded their 1978 hit with a verse containing French lyrics partly improvised by the group's vocalist Debbie Harry. Although record label Chrysalis insisted that the band re-record the song with a grammatically correct French translation, the band preferred the first take and the version containing the "pidgin French" lyrics was released.
3. "Komm, Gib Mir Deine Hand" by the Beatles – Before the arrival of Beatlemania, the Fab Four cut their teeth as a performing group in the German city of Hamburg. It wasn't long after returning to England that the band found massive success, and in 1964 they were persuaded to record their single "I Wanna Hold Your Hand" in German.  Camillo Felgen was commissioned get the translations completed within 24 hours to be ready for the recording session.
2. "Temptation" by Heaven 17 – Strictly speaking, this song has nothing to do with translation. However, by replacing the word 'temptation' with 'translation' this hit from 1983, which reached number 2 in the UK charts, can become a fantastic sing-a-long track when you need something to motivate you to finish the translation you are working on, and provides a bit of a release from concentrating so hard on your work. We use it in the Atlas office all the time…
1. "Life on Mars?" by Seu Jorge – Anyone who has seen Wes Anderson's 2004 film The Life Aquatic with Steve Zissou may recall the Brazilian guitarist Pelé dos Santos played by Seu Jorge (he's the guy playing Portuguese Bowie covers in the background of several scenes). Such was the popularity of Jorge's cameo appearances that in 2005 he released a full album featuring a selection of David Bowie songs, sung in Portuguese. Bowie himself said "Had Seu Jorge not recorded my songs in Portuguese I would never have heard this new level of beauty which he has imbued them with".
Do you know any songs topical to translation? Or perhaps have a particular track which gets you in the translating mood? We'd love to hear from you!