We are proud to announce that earlier today, the Atlas Translations team were victorious in the annual St Albans pancake race 2014, in the walking category!
Above is footage of the team's first heat, where they finished in second place – enough to get through to the final. Here the Atlas team stepped things up a gear in a nail biting race, and walked their way to a close victory, cheered on by dozens, if not hundreds of fans.
We are all very proud of our pancake-race champions and will be back next year to defend our title!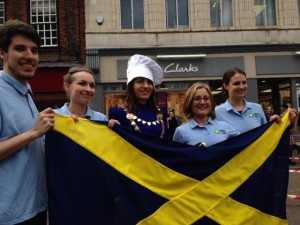 The Atlas Pancake-Race winning four: (l-r) Sam, Siân, Sara & Gabriela with the Mayor of St Albans
Please get in touch if you've been involved with any Pancake Day events!
JH