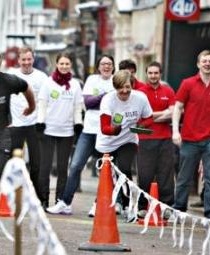 Last week on Shrove Tuesday, Atlas Translations took part in the annual St Albans pancake race 2015. Expectations ran high with memories of last year's victory in the 'Flippin Walkers' division still fresh in the mind. However due to staff changes and injury, only one team member of 2014's victors would be able to compete in this year's race.
Nevertheless, armed with the confidence of last year's win, the relatively inexperienced Atlas team made their way out to the sun kissed tarmac of the town centre (just outside Boots) which today would act as the grand stage for all competing teams in the pancake races of 2015.
Captained by the only surviving member of 2014's darlings Sian, the rest of the team was made up by Accounts Manager Monika, last year's Head Coach Jim, and brand new work placement Gabriella. This was Gabriella's second day with Atlas Translations.
In front of an enthusiastic crowd, Team Atlas made a solid start to the competition, finishing their first heat in second place thus ensuring their progression to the next round. In the second heat (video below) Atlas fared even better. After a nervy start, they got themselves back into the race, and Monika was able to steal victory in the dying strides of the race. Sadly this would prove to be Atlas' only win of the day, as they were defeated in the final race, ending up in third place.*
Though disappointed to return with only bronze, the Atlas team can look back on their performance with a great deal of pride. Having brought so much joy to so many, these young competitors inspired audiences, and with youth on their side, it would not be out of the question to place Atlas amongst the favourites for 2016.
*Atlas actually finished in fourth place but were later awarded third due to the disqualification of one of the other teams
JH