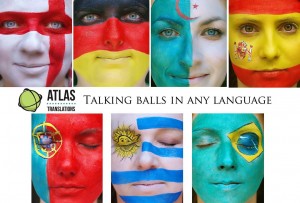 Lucky enough to have bagged a ticket to Brazil? If so, why not kick the monolingual language characteristics of an Englishman abroad into touch and follow in the footsteps of some of our bilingual greats; Gary Lineker, Sol Campbell and David James.
Some phrases to try:
We are here for the footie! – Estamos aqui por causa do futebol!
Yes, you're right; the English football team have always been underachievers – Sim, você está certo; a seleção inglesa sempre tem maus resultados.
I think the referee has problems with his eyesight!  – Acho que o juiz precisa de óculos!
Please no penalty shoot out for England!! – Por favor, nada de decisão por pênaltis para a Inglaterra!!
Have we gone into Extra Time? – Será que vai ter prorrogação?
Why has he got a yellow/red card? – Por que ele recebeu cartão amarelo/vermelho?
Could I please use your toilet? – Posso usar o banheiro?
I'm sorry, I don't know David Beckham personally – Desculpe, não conheço David Beckham pessoalmente.
I'm a good friend of David Beckham – Sou amigos do David Beckham.
And some genuinely useful phrases:
Hello – Olá.
Good Morning – Bom dia.
How are you? – Como vai?
What's your name? – Qual é seu nome?
My name is…. – Meu nome é ….
I'm sorry I don't speak Portuguese. – Desculpe, eu não falo português.
Do you speak English? – Você fala inglês?
Could you tell me, where is… -Poderia me dizer onde fica…
the nearest bar / shop / hotel / doctors / please? -o bar/loja/hotel/médico mais próximo por favor?
One beer please! – Uma cerveja, por favor!
Two beers please! – Duas cervejas, por favor!
Three beers please! – Três cervejas, por favor!
Ten beers please! – Dez cervejas, por favor!
Where will I get the best Caipirinha? – Onde eu consigo a melhor caipirinha?
Please could you call an ambulance?  – Você poderia chamar uma ambulância, por favor?
I / my friend need/s urgent medical attention. – Eu preciso/meu amigo precisa de atendimento médico urgente.
Thank you – Obrigado (Obrigada, if a woman).
Sorry – Lamento.
Sorry about my friend(s) – Lamento quanto a seu(s) amigo(s).
No, he's not with me – Não, ele não está comigo.
Could I please use your toilet? – Posso usar o banheiro?
Good bye – Tchau.
Good Night – Boa noite.