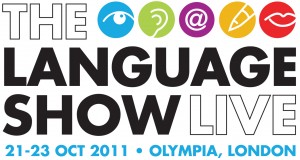 Director Clare Suttie recently spoke at the Language Show 2012 in London, in October 2012. Language Show  2012 Live is the UK's largest event for people passionate about languages. It's free to attend and a great chance to join over 10,000 language learners, teachers, translators, linguists, jobseekers and language professionals.
Clare made some notes about questions she fielded, so that she could blog about them for those who didn't attend… Here's Part Three:
Rates – who sets them and what is acceptable?
Rates are entirely up to the individual to set. We are always happy to offer guidance based on what WE usually pay. We recommend having a rate per 1000 words and then an option of increasing it depending on urgency and subject area, and any special requirements (PowerPoint, fiddly layout, handwritten source text). Start low range and then negotiate up! Once you are established, put your price up a little a time.
I always recommend that if you're looking to work for a new agency, call them first and check what rates they are paying – BEFORE you apply.
Are translation memory tools essential for translators?
Becoming more so. Our most successful translators definitely use translation memory to improve their performance and their income. However we do accept that a translator nearing retirement may not be that keen to make such an investment of time and money. For a new translator there is no question – you must use a translation memory tool. There are plenty out there – find out more and work out which one suits you best.
Don't rest on your laurels!
Stay up to date. Keep looking for new clients. Website, twitter, ITI, CPD, networking with other translators, update your CV at least annually. Update your current clients – stay in touch.