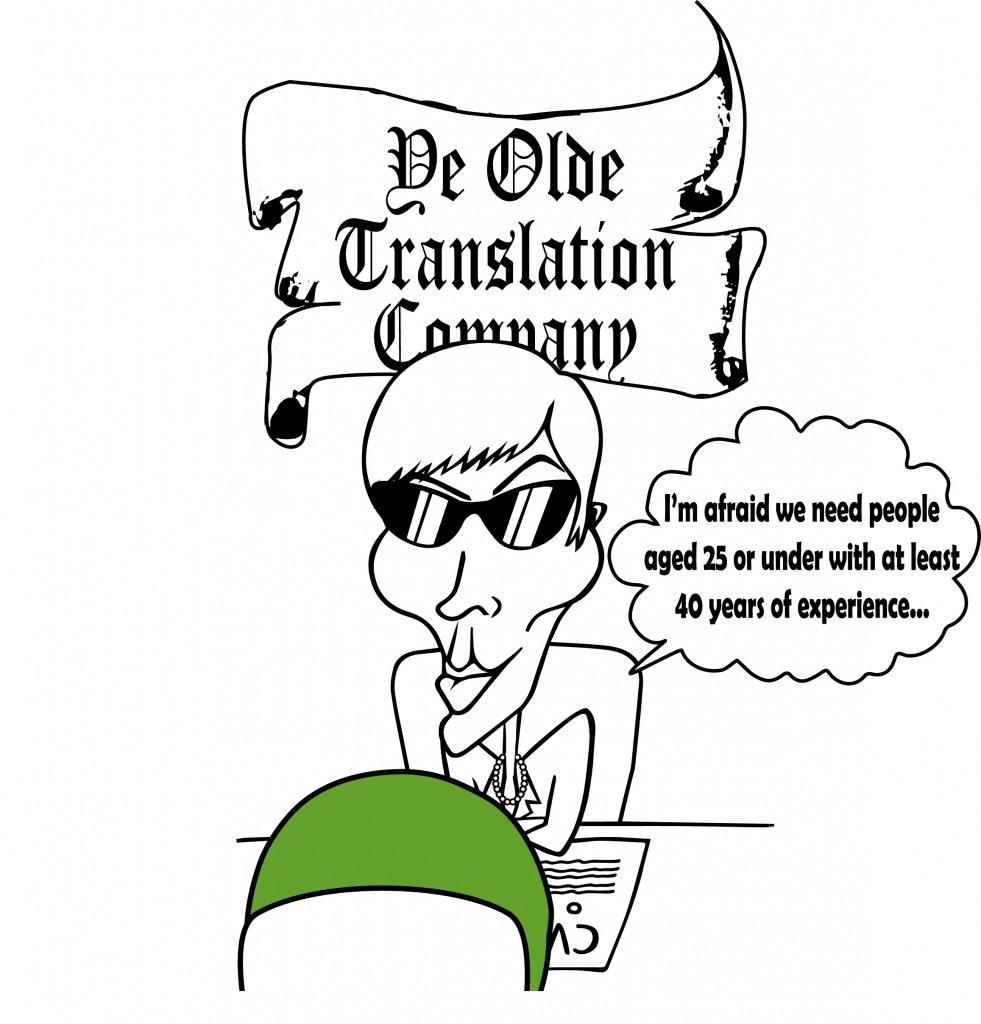 As all translators must know, the road to becoming a professional and qualified translator can be long and stressful. It is vital to gain the suitable qualification(s) and to choose the sector(s) you want to specialise and work in. Once you've got the qualifications you need to be a translator, then you realise that this is actually just the first step in your career!
"We are impressed by your knowledge background, but we are not able to offer you a position if you don't have any experience in translation". How many times have you heard this? For people starting out in the translation industry it can seem like the picture above! So how can you enrich you CV with practical experience and start getting offers for work?
Although most translation companies mainly work with freelance translators, there are still quite a few that offer internships where you can work as an in-house Translator or assistant Project Manager. These give you the opportunity to learn all about the industry but unfortunately, it's not always easy to find such positions. At Atlas, we run a Work Placement scheme which offers applicants the opportunity to learn the inner processes and workings of a translation agency. It's a great way to learn how the business works but (as most Work Placements lack the necessary level of experience to work as a freelancer for Atlas) there is little or no actual translation work involved in the placement scheme.
The best way to start building your experience (and gaining references) is to offer your translation services to charities and NGOs. There are many organisations out there such as the British Red Cross, Translators without Borders, refugee assistance programs, and hospital clinics often looking for volunteer translators and interpreters. Although the work is usually unpaid, it is a great way to start building your career and gain some experience.
If you're more into the creative translation world, and are passionate about your country and feel like promoting all the attractions on offer, then another option could be to translate information on local tourism.
It is worth contacting bodies such as the Institute of Translation and Interpreting (ITI) and attending translators' conferences and networking meetings to speak to other freelancers, and find what they did to build the necessary level of experience to begin working with agencies.
Day by day, your experience within the industry will grow and your CV will look much better to potential employers. It can be really frustrating to be in a position where you are qualified but lack experience (we've all been there). The most important thing is to not give up, remain passionate and keep an open mind for new experiences in the world of translation and interpreting – you never know what is round the corner!