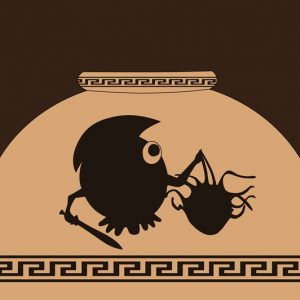 Translation is one of those professions that people have no real idea about. Are we sitting with quills, poring over a dictionary? What do we do all day? Isn't it just a hobby? Can't anyone who has learnt a bit of a language translate? Are we not all redundant now thanks to Google? Here we debunk several myths which surround the translation and localisation industry.
As for interpreters, two words – Nicole Kidman.  That's a whole other blog post though.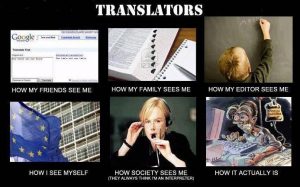 So what myths about translators and translation do we hear regularly?
Anyone who speaks two languages can translate
Translators have trained and honed their skills over many years, and they have specialised in particular subject areas – be it computing, marketing, finance, tax or wine. I'm English and couldn't claim to understand all of my mortgage paperwork… let alone translate it into another language!
Surely there is no need to translate this – everyone speaks English
It's true that English is popular, but when people are doing business, shopping and communicating, they want to be 100% sure they understand all of what you are saying. And it's courtesy surely to cater for all clients – and potential clients – in their own language?  If all your clients speak English, all that may prove is that you haven't attracted any non-English speaking customers.
Translators work on books, interpreters just work at the UN and EU Parliament
Practically everything you pick up has translations – food packaging, how to use your camera, instructions for your washing machine, your car manual. Interpreters are sent to conferences, court cases, business negotiations and lots more. Once you start looking, you'll see that languages really are everywhere.
With GoogleTranslate and technology these days, who needs a real person?
GoogleTranslate is great to get the gist of a message, but if you want to be confident that you are using a professional, fluent translation, the only option is to use a person. Currently packages such a GoogleTranslate can only go so far, and cannot handle nuances, cultural references, humour or complicated sentences. Most people will spot an automatic translation a mile away, and it may make them laugh – which is not so good when you want to be taken seriously in business.
All translators do is type one text into another language.
Take into account writing skills, top-notch grammar and spelling, working out what the original author intended, research and terminology checking, and add in cultural considerations. Translators draft a translation, revise and rework, and ideally sleep on ideas to allow them to tweak their work until they are happy with it.
With a good dictionary and Google I can work out a decent translation
See number 5.You can't.
Translators sit around in dusty libraries all day and are out of touch with technology
In fact translators have always been ahead with technology. They are running businesses, marketing themselves as professionals, qualified and highly skilled in their area. You're much more likely to find them in their home office using speech recognition software to take down work, or out updating their considerable skills and CPD at conferences and seminars.
For total confidence in all your translation and language requirements, give Atlas Translations a call. A friendly, human translation agency – Chat now using the Chat box on the right hand side, call us on 01727 812 725, or email us team@atlas-translations.co.uk