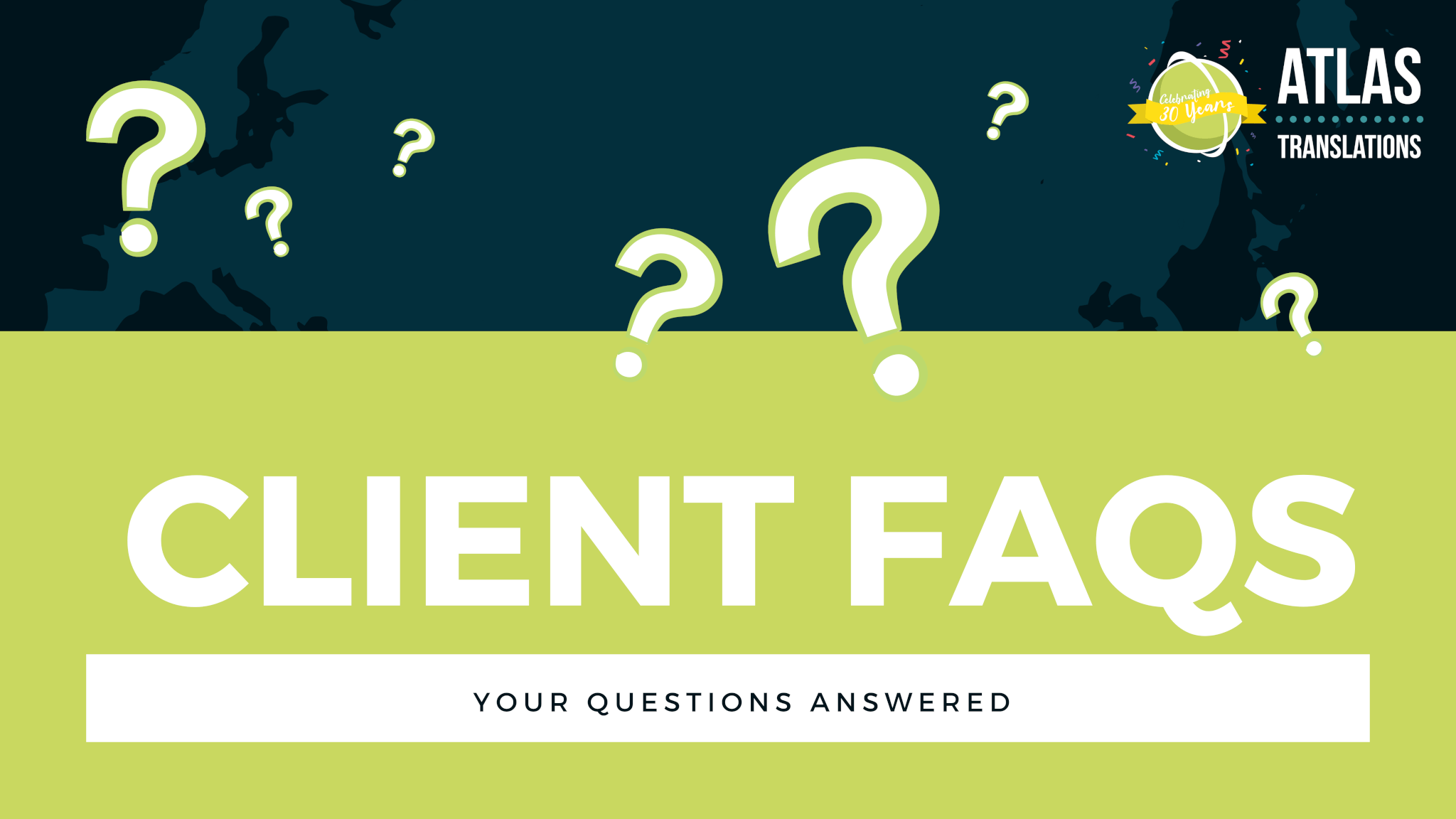 Throughout November, we've been posting quick answers to some of the most common client FAQs – check them out on our social media channels if you haven't had a chance to yet!
In this blog post, we'll be delving into a few of these client FAQs in a bit more depth, hopefully helping to clear up any queries you might still have. Translation services can be a slightly tricky field if you've never needed it before, which is why our experienced team is on hand to provide the fast and friendly service you're looking for.
Client FAQ #2 – Which languages do you work in?
At Atlas Translations, we've worked in hundreds of different languages from all over the globe. One of the most exciting parts of being a project manager is finding the perfect translator to suit your needs, and that means getting someone with the right experience and know-how in your chosen language.
Tying in with FAQ #1, it can sometimes be tricky to know exactly what language you need for your translation – there are so many different dialects and differences between languages, some of which can have embarrassing variations! Finding out which language variant you need is an important part of the process and helps us deliver exactly what you're looking for.
Client FAQ #8: How do I know that I can trust you?
Many of the translations we deal with involve legal documents or other confidential work. Working with an agency you trust is really important when it comes to translations like these, and we have plenty of ways to give you complete peace of mind. We're holders of the ISO 9001 and ISO17100 certifications, as well as being members of the ITI, ATC, and CIEP.
When you work with Atlas Translations, you know that you're working with real people dedicated to delivering a fast and professional service. As a certified translations agency, we have the experience and commitment to deliver all different kinds of translation services.
Client FAQ #28: Are you able to adapt the translation for a specific new audience?
We know that making sure your marketing materials are effective is very important for companies and customers alike, and lots of what we do here at Atlas goes into ensuring your translation speaks the right language.
This process is known as localisation. It can involve anything from reworking jokes or slogans in a new language, to editing the design of your materials in a way which makes most sense for your target audience. Whatever you're looking for, our team of translators working in their native tongue can ensure that your translated materials are as successful as possible.
Moving Forwards with Atlas Translations
So there you have it! Don't forget to check out our other useful answers to client FAQs on our Youtube page or social media channels. If you're ready to take the next step with your translation process, get in touch with us today to find out more about what we can do for you.