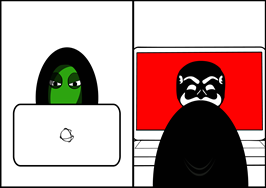 Agony aunt I am not, but over the years I've read many reports from translation agencies:  "Every day we receive around 50 translator applications which are patently fake.  They are easily recognisable because of the incongruous language combinations …Further clues are the clumsy English – many begin with Hello Sir – and the similar typeface.  As fakes they are laughably obvious and we just delete them on arrival, nevertheless they are an irritation and Have you had a similar experience and do you have any suggestions for "hitting back" at the perpetrators?"
We all know there are scammers out there on the internet. Con artists who tell us we've won the lottery, inherited $4 million, qualified for a tax refund. And that's just before breakfast. Cyber-crime is rife and it's getting more sophisticated – translation companies, translators and clients all need to be alert and aware.
About 4 years ago we became aware of scammers and identity theft in the translation industry and I was puzzled. Why was a translator I knew sending me his CV? But it wasn't him. Someone had pinched his CV online. How could this work? Well, I could have sent him work. He may have asked for a payment in advance. And then delivered via Google Translate, if at all.
Professional Safety and Identity Theft
CVs have always been used to win work in this industry. Indeed, in many industries. But as scammers and hackers become more and more imaginative, you need to protect your CV to ensure professional safety. There is a lot you can do with date stamps, watermarks, passwords and more to ensure your professional safety online, but at the very least:
Don't put your CV online – have it available on request only.
Don't include too much personal info – avoid birth date, marital status, children
Keep track of who you have sent it to, and only send it to someone when you've had a look to make sure they are who they say they are!
Sending speculative CVs for work?
We now discard all email applications unless they are personally addressed to us or following up some event or meeting we've attended. It has turned our application process on its head, as we used to reply to every email.
I have often mentioned this problem when I meet translators and students, and advise freelancers to make their CV available on request rather than keep it online on community translation sites.
When it comes to the matter of presenting yourself professionally, I have always advised freelancers to research who they want to work with and make a direct and personal approach. Sending out mass emails attaching your CV has never been the best idea, and now I believe it's borderline pointless!
There really is no way of effectively hitting back, as if one email address is shut down, another will open up, and like the bank managers who contact you regularly to share $20 million with you, they just keep coming back.
More information
A fantastic, free resource is the Translation Scammers Directory who you can also follow on Twitter. I contacted the busy team and they flagged up new trends:
"Scammers now presenting themselves as "independent project managers."
The way they get and deliver their jobs (if at all) remains the same: fake CVs and Google Translate or substandard translators (who in the end aren't paid).
And let's not forget the fake companies set up by scammers, sometimes with well-designed websites to go with them. Of course, addresses are always fake and, as usual, these companies have no phones."
Reference
www.translator-scammers.com
www.scambusters.org/translationscams.html
(A version of this article first appeared in ITI Bulletin winter 2015).