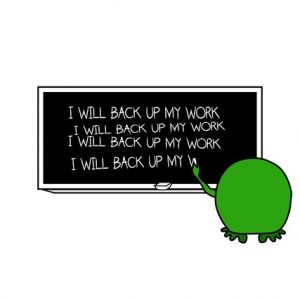 What's the reason for backing up data on your PC? Nowadays, many people work with a computer or a laptop to do their job. It is crucial that your data is regularly backed up, and stored in a 'safe' place where it can be retrieved if anything goes wrong.
Most freelance translators are already aware that backing up needs to become a habit if they want to avoid to lose hours of hard work. Always remember – you won't get that time back! Furthermore this could affect your client relationships. If something goes wrong and you're not able to meet an agreed deadline because of an unpredictable error, or because you've lost the files from your computer, who's to blame? IT disasters happen. Everyone understands this. But you need to have a back up system in place to minimise the damage.
There are different ways to protect your data and ensure these can be accessed even if your computer dies.
Backing Up
One quite basic but always valid solution is to back up your work onto an external hard drive. Alternatively, to an optical disc (CD-R, DVD or Blu-ray) or USB pen drive. This will protect you in the event that anything happens to your PC. However in the event of something more serious (fire/flood etc.) it is a good idea to periodically store data at an alternative location (a friend or family member's house). Just in case something happens to your usual work space.
Backing up data to a separate drive partition of your PC is not necessarily a great idea. Many PCs have their hard drive divided into C and D for the operating system/programs and data respectively. In fact, copying files from C to another partition does not mean that your data has been backed up. If anything happens to the hard drive or your PC is lost or stolen, you lose all the partitions on that drive.
The best backup system involves an external drive or the cloud. Online storage can be quite expensive and many people don't have fast enough internet connections. While this makes things slightly more complicated and less affordable, you do have access to your data wherever you are, whatever happens to your physical computer. At the moment, it's easy enough to store and/or synchronise files in online drives such as Dropbox, GoogleDocs and Microsoft OneDrive, but these services are only suitable for backing up a limited amount of data.
Always protect your work and your systems. Make sure you use trustworthy antivirus software to prevent being infected by a virus. This will help you keep your data safe, at least until the next back up!